About
The 8th UTIAS International Workshop on Aviation and Climate Change will be held on May 31st - June 2nd, 2023, at the University of Toronto Institute for Aerospace Studies in Toronto, Ontario, Canada. The workshop aims to stimulate dialogue among academia, government, and industry toward finding technological solutions to reduce greenhouse gas emissions from aviation.
The primary focus of this workshop is on technological and scientific issues. Our goal is to bring together some of the world's leading experts in this area in order to exchange ideas, establish research priorities, and identify opportunities for collaboration.
Participation in the workshop is by invitation only.
The primary subject areas of relevance to the workshop are:
Aircraft design
Engine design
Alternative fuels
Atmospheric science
---
Past Workshops
---
Presentations
After the event, presentations will be added as they are received from speakers.
Some presentations may not be available for public distribution.
---
Program
Wednesday, May 31, 2023
09:00 - 09:30 EDT
David Zingg
Professor, UTIAS
OPENING REMARKS
09:30 - 10:30 EDT
Rich Wahls
Sustainable Flight National Partnership Mission Integration Manager, NASA Aeronautics Research Mission Directorate
NASA Sustainable Flight National Partnership Overview
10:30 - 11:00 EDT
BREAK
11:00 - 11:30 EDT
Lynnette Dray
Principal Research Fellow, University College London
Modelling pathways towards net zero aviation climate impact
11:30 - 12:00 EDT
Volker Grewe
DLR
Scenario assessments, mitigation options and non-CO2 effects in regulations
12:00 - 13:00 EDT
LUNCH
13:00 - 13:30 EDT
Zhenning Gu
Aviation Researcher, Shell
Fit-for-Purpose Evaluation in Shell's Sustainable Aviation Fuel Development
13:30 - 14:00 EDT
Wendy Bailey
Chief, Environmental Protection and Standards, Civil Aviation, Transport Canada
Sustainability in Aviation, Government of Canada Perspective
14:00 - 14:30 EDT
Ajay Misra
Deputy Director, Research and Engineering, NASA Glenn Research Center
Energy Sources and Energy Conversion Processes for Sustainable Aviation
14:30 - 15:00 EDT
BREAK
15:00 - 15:30 EDT
Neal Harrison
SUGAR Transonic Truss-Braced Wing - Principal Investigator & Program Manager, Boeing Research & Technology
Transonic Truss-Braced Wing Vision Vehicle Technology Maturation
15:30 - 17:00 EDT
ROUNDTABLE
Thursday, June 1, 2023
09:00 - 10:00 EDT
Fayette Collier
Aerospace Engineer, NASA Langley Research Center
Progress toward Blended Wing Body Aircraft
10:00 - 10:30 EDT
Sigrun Matthes
DLR
Challenges in climate-optimized trajectories considering non-CO2 effects
10:30 - 11:00 EDT
BREAK
11:00 - 11:30 EDT
Tomas Grönstedt
Professor, Chalmers University of Technology
Progress in heat management for hydrogen combustion aircraft
11:30 - 12:00 EDT
Chris Droney
SFD Deputy Chief Engineer, The Boeing Company
Sustainable Flight Demonstrator Program Overview
12:00 - 13:00 EDT
LUNCH
13:00 - 13:30 EDT
Graham Potter
Bombardier
TBD
13:30 - 14:00 EDT
Sid Banerjee
Bombardier
TBD
14:00 - 14:30 EDT
Arne Stuermer
DLR Institute of Aerodynamics and Flow Technology
Overview of Engine-Airframe Integration Studies for Future Efficient Propulsion Systems
14:30 - 15:00 EDT
BREAK
15:00 - 15:30 EDT
Joyce Penner
Ralph J. Cicerone Distinguished University Professor of Atmospheric Science,

University of Michigan

Progress in determining the climate impact of aerosol particles emitted from aircraft on large-scale cirrus clouds
15:30 - 17:00 EDT
ROUNDTABLE
Friday, June 2, 2023
09:00 - 10:00 EDT
Mark Page
John Vassberg
Founder and CTO, JetZero
Chief Design Officer, JetZero
The JetZero Blended-Wing-Body — Building a Path to Zero Carbon Emissions
10:00 - 10:30 EDT
Prem Lobo
SAF Program Manager, Office of Environment and Energy, Federal Aviation Administration
Fueling Aviation's Sustainable Transition – U.S. Policy and Actions to Decarbonize the Aviation Sector
10:30 - 11:00 EDT
BREAK
11:00 - 11:30 EDT
Gaudy Bezos-O'Connor
Project Manager, Electrified Powertrain Flight Demonstration Project (EPFD), NASA Aeronautics Research Mission Directorate 
NASA EPFD Project's Progress Towards Reducing Barrier EAP Technology and Integration Risks
11:30 - 12:00 EDT
William Agyare
Aviation Safety Inspector, Manager Aerodromes Safety and Standards, Ghana Civil Aviation Authority (GCAA)
Aviation-induced pollution - Africa's contribution to reducing emissions
12:00 - 13:00 EDT
LUNCH
13:00 - 13:30 EDT
Tony Nerone
HyTEC Project Manager, NASA Glenn Research Center
NASA's Hybrid Thermally Efficient Core (HyTEC) Project Overview
13:30 - 14:00 EDT
Pervez Canteenwalla
Program Leader, National Research Council Canada
NRC Low Emission Aviation Program – Transitioning towards a "net-zero" future for aviation
14:00 - 14:30 EDT
Aiden Gray
PhD Candidate, UTIAS
Estimating the Energy Efficiency Benefit of the Blended Wing-Body Aircraft Configuration in the Regional Class Through Mixed-Fidelity Multidisciplinary Optimization
14:30 - 15:00 EDT
David Zingg
Professor, UTIAS
CLOSING REMARKS
---
Visitor Information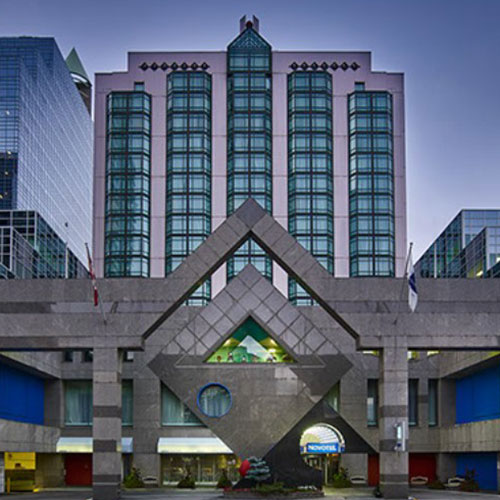 Conference delegates are encouraged to stay at the Novotel North York. Situated in Uptown Toronto, Novotel Toronto North York offers a modern destination that has upscale amenities, such as complimentary WiFi, a full-service restaurant, and an indoor saltwater pool. The University of Toronto Institute for Aerospace Studies (UTIAS) has secured a corporate rate of $184 per night with breakfast included.
Novotel North York
3 Park Home Avenue
North York, Ontario, M2N 6L3
Tel: 416-733-2929
Hotel Reservations
Please call Novotel directly to secure reservations at 416-733-2929 on or before April 30, 2023. The rooms are booked under the UTIAS Aviation Group (Block ID 1689610).
* All rates are subject to applicable taxes
* Quoted rates are not guaranteed for reservations made after April 30, 2023.
Transportation to and from Toronto Airport
Airport limousines/taxis can be located immediately outside any terminal at Toronto's Pearson Airport (YYZ) on the Arrivals Level. The travel time to the hotel should be about 30 minutes, depending on traffic conditions.
Transportation Between the Hotel and UTIAS
Transportation between Novotel and UTIAS will be provided by a shuttle bus. The shuttle bus will depart from Novotel North York at 8:15 AM each morning. Renting a car is an option, but not necessary. Public transportation to UTIAS is not recommended due to the irregular schedule of the buses between the subway station and UTIAS.
Directions to UTIAS
UTIAS is located at 4925 Dufferin Street, in the north-central section of the city of Toronto. The driving time from the hotel to UTIAS should be about 15 minutes, depending on traffic conditions.