Written by Rahul Kalvapalle
The University of Toronto welcomed South Korean President Yoon Suk-yeol to campus last week to discuss artificial intelligence (AI) – its rise, potential applications and opportunities for further collaboration between U of T and South Korean partners.
President Yoon hailed Toronto as an AI powerhouse, saying that Canada's status as a world leader in AI and a centre of the global AI supply chain was the result of the country recognizing the potential economic and social impacts of the technology early on.
He also said the tenacity and persistence of researchers such as University Professor Emeritus Geoffrey Hinton, a pioneer of the AI field of deep learning, served as a "benchmark" for South Korean efforts to advance the technologies of the future, adding that he was delighted to visit U of T, which he described as "one of the most prestigious universities in North America."
U of T President Meric Gertler, for his part, said he was "deeply honoured" to welcome President Yoon, who, he said, "has made it a priority to work closely with South Korea's allies and partners, advancing openness, human rights, democracy and the rule of law, with clear purpose and integrity."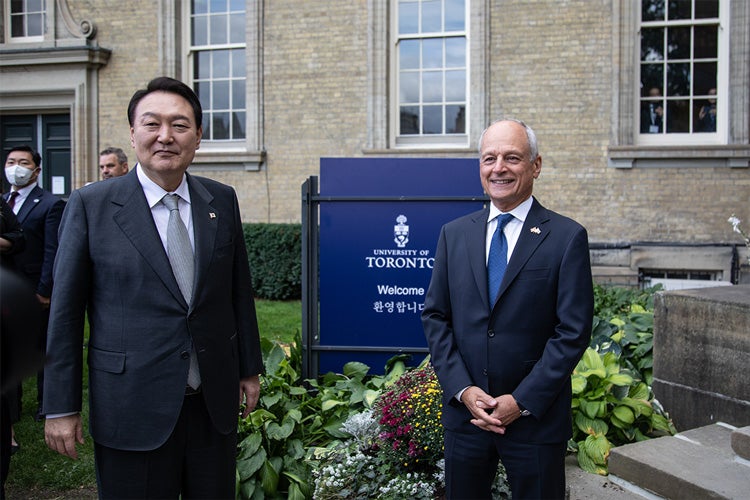 (Photo by Polina Teif)
President Gertler noted that the South Korean delegation's visit comes at a time when Toronto has emerged as the third-largest tech hub in North America, with the city's AI and machine learning ecosystem at the heart of this growth.
"Together with the Vector Institute, the Canadian Institute for Advanced Research (CIFAR), MaRS and other partners – all within a walking distance of this room – we have created one of the world's richest pools of talent," President Gertler said.
He added that U of T, its local partners and South Korean organizations stand to learn much from each other when it comes to AI research, development, innovation and education.
"Partnering with Korea's leading universities, innovative firms and exceptionally talented researchers is an extraordinary opportunity for all parties to benefit as we deepen our collective commitment to excellence and to tackling the world's most pressing challenges."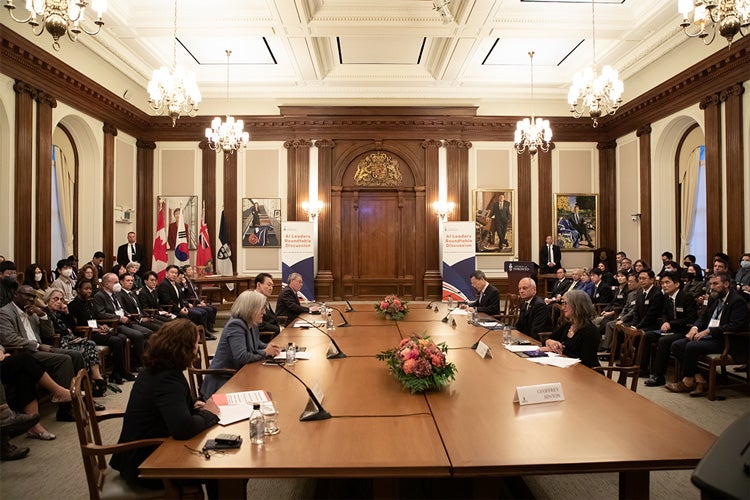 (Photo by Johnny Guatto)
President Yoon's visit to U of T took place during the first day of his two-day visit to Canada, which included a meeting with Prime Minister Justin Trudeau in Ottawa the following day.
It also came less than two weeks after the government of Ontario concluded a trade mission to South Korea and Japan, led by Vic Fedeli, the province's minister of economic development job creation and trade.
Fedeli, who attended the U of T event, said Toronto's reputation as a global hub in AI was regularly impressed upon him during his time in South Korea.
"At every single stop that we made, we heard people talk about Canada, AI, U of T, the Vector Institute – they see Canada as a real leader in AI and they're very eager to learn," Fedeli said.
He noted there was a strong desire in South Korea to see more Korean students come to Canada to further their education in STEM fields, including in AI. "They want a bigger influx of Korean students – and we told them, 'The door's open,' because we really believe this is going to help society. We've seen some examples of what AI has done and we're very eager to continue to see the development of AI."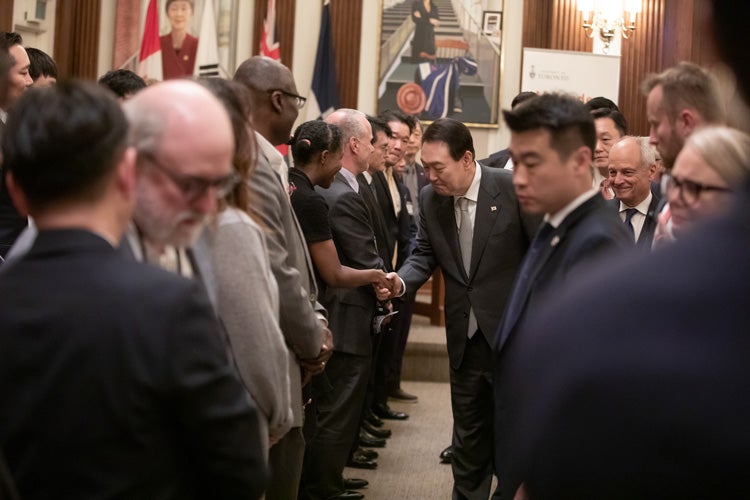 (Photo by Johnny Guatto)
Fedeli added that he hoped the high-level meeting would further strengthen the economic relationship between Ontario and South Korea, helping to spark AI advances that give both Ontarian and Korean companies a competitive edge on the global stage.
Held at Simcoe Hall, the meeting included a roundtable discussion titled "AI for the Better Future of Humanity," that featured AI leaders and luminaries, including Hinton and Lee Jong-ho, the Republic of Korea's Minister of Science and ICT (information and communication technology).
The talk, moderated by Leah Cowen (pictured below), U of T's vice-president, research and innovation, and strategic initiatives, also included contributions from Garth Gibson, president and CEO of the Vector Institute for Artificial Intelligence; Elissa Strome, executive director of Pan-Canadian AI Strategy at CIFAR; and Professor Lisa Austin, chair in law and technology at U of T's Faculty of Law and associate director at the Schwartz Reisman Institute for Technology and Society.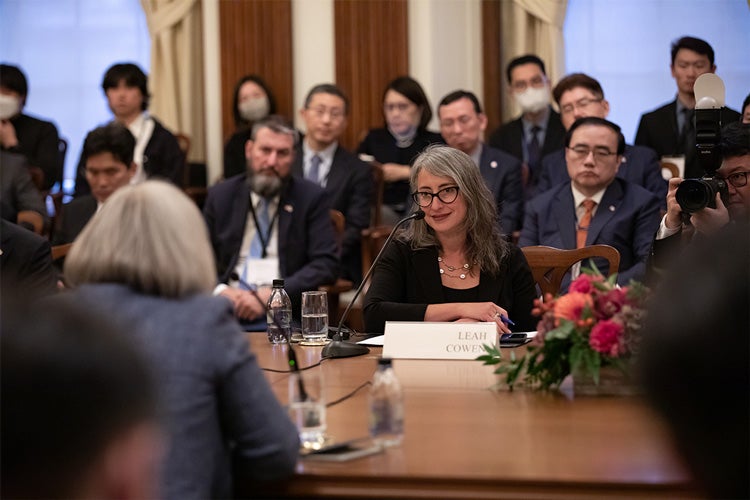 (Photo by Johnny Guatto)
Attendees watched demonstrations by U of T professors and graduate students from the U of T Robotics Institute, as well as presentations by South Korean companies, including Samsung and LG – both of which have expanded their presence and connections with Toronto and U of T in recent years – and was also used to announce a new U of T exchange program with the South Korean government's Institute for Information & communication Technology Planning & evaluation (IITP).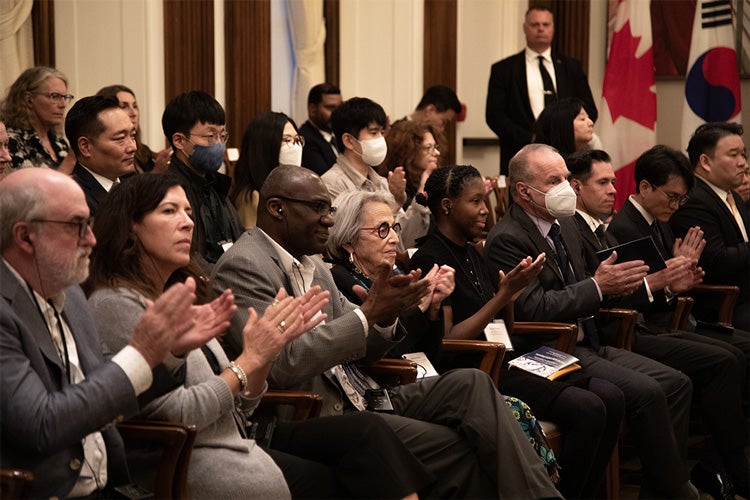 (Photo by Polina Teif)
On the subject of AI, Hinton said he believes the deep learning revolution is just getting underway and that he expects tremendous growth in the years ahead.
"We now know that if you take a neural net and you just make it bigger and give it more data and more computing power, it'll work better. So even with no new scientific insights, things are going to improve," Hinton said during the roundtable discussion. "But we also know there are tens of thousands of brilliant young minds now thinking about how to make these networks better, so there will be many new scientific insights."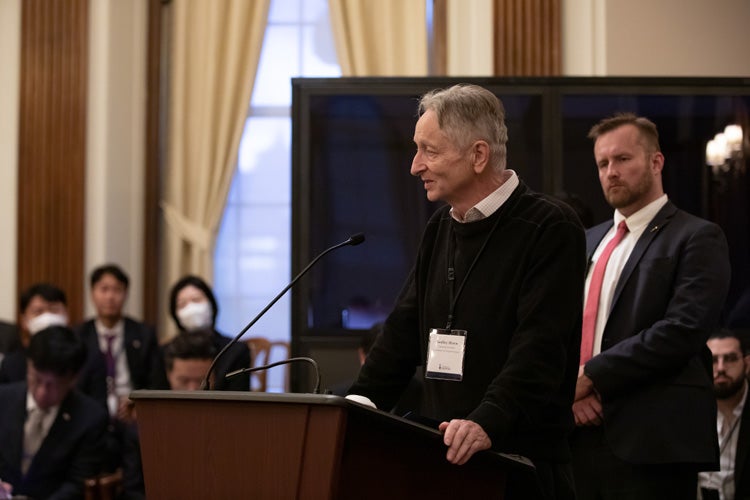 (Photo by Johnny Guatto)
In the long-term, Hinton (pictured at the lecturn above) said he envisions a revolution in AI hardware led by advancements in "neuromorphic hardware" – computers and hardware that model artificial neural networks.
"I think Korea may have a big role to play in this," Hinton said, noting one of the world's leading experts in this area is Sebastian Seung, Samsung's president and head of research – who attended the Simcoe Hall event.
When asked to share his thoughts on how Canada achieved its leadership position in AI, Hinton cited three foundational factors: a tolerant, liberal society that encourages leading researchers to settle here; the federal government's funding for curiosity-driven basic research; and CIFAR's funding, in 2004, of the Neural Computation and Adaptive Perception program, which is credited with kickstarting the revolution in deep learning.
Following the discussion, event attendees, including U of T students, watched presentations on avenues for AI research and collaboration by representatives of five South Korean companies: LG, Samsung, Naver, KT (formerly Korea Telecom) and SK Telecom.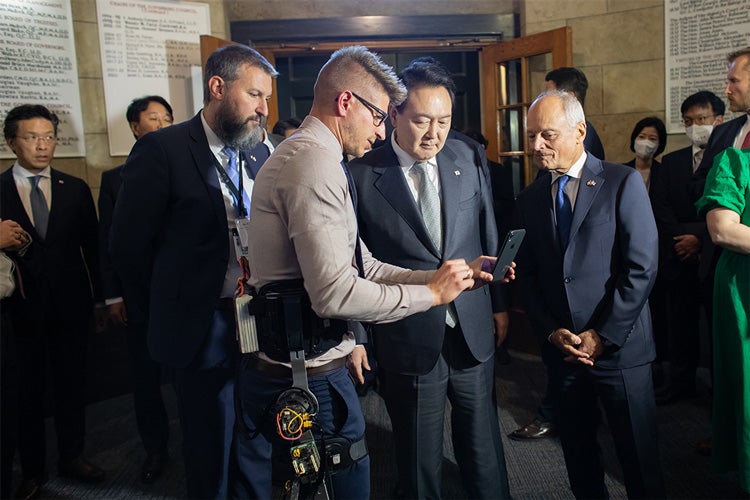 (Photo by Johnny Guatto)
Alex Mihailidis, U of T's associate vice-president, international partnerships, then announced that U of T had signed a memorandum of understanding with IITP, based in Seoul, to launch a bi-national education program in AI.
"We expect that in the fall of 2023, we will be accepting 30 students from Korea who will be going through a custom-made program around AI and its applications," Mihailidis said. "This is a groundbreaking program that we expect will not only flourish here in Toronto but will grow – hopefully across our two great countries and around the world."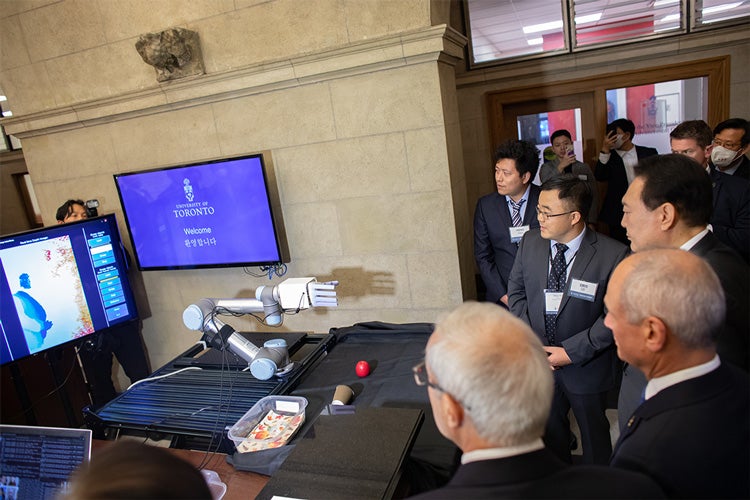 (Photo by Johnny Guatto)
Earlier, Mihailidis and President Gertler led President Yoon and Fedeli through four demonstrations showcasing some of the cutting-edge technologies being developed by U of T professors and their graduate students.
The technologies included: a wearable robotic exoskeleton for walking assistance and rehab demonstrated by Mihailidis and post-doctoral researcher Brokoslaw Laschowski; a sensory soft robotic hand for human-robot interaction demonstrated by Professor Xinyu Liu of the department of mechanical and industrial engineering in the Faculty of Applied Science & Engineering, graduate student Zhanfeng Zhou and post-doctoral researcher Peng Pan; a multimodal perception system for autonomous vehicles showcased by Jiachen (Jason) Zhou, a graduate student in robotics and aerospace engineering; and a nanorobot for precision manipulation under electron microscope that was demonstrated by Yu Sun, professor in the department of mechanical and industrial engineering and director of the U of T Robotics Institute.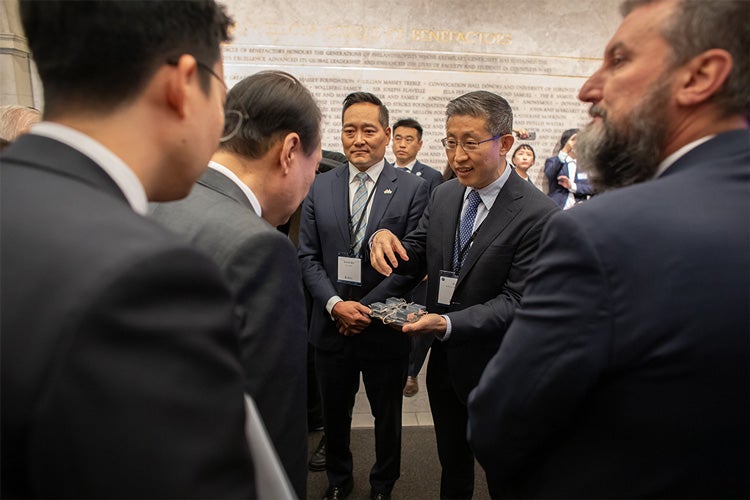 (Photo by Johnny Guatto)